After a long and cold winter it can be lovely to finally free ourselves from heavy hoods and bulky bobble hats and let our tresses see the light of day again. While laidback and loose hair looks lovely in summer, what with the better weather and relative lack of wind it can be nice to style it up a bit with some lovely headwear that will help you to express your individual style without looking fussy.
Whether you sport long hair or not, the right head and hair accessory can really bring your style together, and since it is your face and head that is the focal point of you, it can also be a great way to get noticed. If you want to update your style a bit or simply try something new, check out some of these lovely headwear options that you can find both online and on the high street.
A hat is always a great idea in summer to help to keep you cool and to also help protect your face from those harsh and aging rays. Everybody loves the glamour of the 1950s, so if you're bold enough, why not try out a gorgeous and ostentatious floppy straw hat. It can look great whether you are at the beach in your flip-flops or in a smart dress in the city (think Julia Roberts when she's on Rodeo Drive in Pretty Woman!). This beautiful grey and blacked toned straw hat from Matalan with a bow ribbon detail is eye-catching without being too over the top, and even better, despite its classy look, it comes with a budget price tag of just £8! Wear it with jeans, a t-shirt and some jewelled sandals for a look a celebrity would be proud to wear, or with a flirty summer dress for a style that's chic and feminine.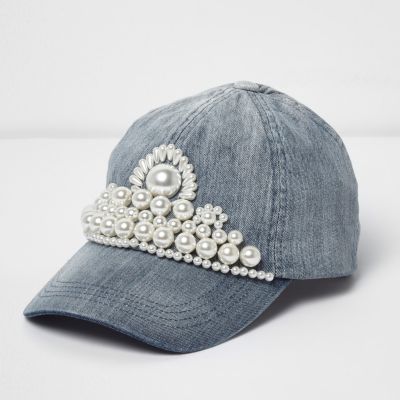 To love to have a baseball cap on hand for your bad hair days but are bored of the same sporty style? Then this pearl encrusted denim cap is the baseball cap that you've been seeking. Channel your inner mermaid thanks to the lovely pearl crown that is affixed to the front part of the cap, and know that you look trendy and casual with a look that is all your own. This cap is an online exclusive from fashionable high street brand River Island and costs £20, so get clicking!
And finally for light and airy bo-ho look that you'll forget that you're even wearing, there is nothing quite like a dainty flower crown. If you're heading to a festival this sweet little floral hair decoration from Swedish brand H&M will be perfect, although you can wear it pretty much wherever you like this summer without it looking out of place. The pink and white rose crown with its delicate trailing frond will look great with loose and wavy locks and will make your style summer ready. It costs just £5.99 and is a lovely piece to add a little detail to your look.