Even though we're always going on and on about how summer is the perfect time to show some skin, in this country at least there will always be days during the summer when it is simply not warm enough to get away with simply a summer dress. Whether it is cloudy, showery or windy, it is always good to have a back-up plan just in case the weather is a bit inclement, and this is where lightweight knitwear really comes into its own.
When we think of knitwear, we tend to imagine chunky and heavy knits, Nordic designs and plenty of texture, but you can just as easily choose lighter materials for your knitwear that are made from materials such as cotton that will keep the chill off without making you sweat. Having a lovely lightweight piece of knitwear during spring and summer will really be a useful addition to your wardrobe and you'll find that you can get lots of wear out of it. We love the following pieces of knitwear for this summer.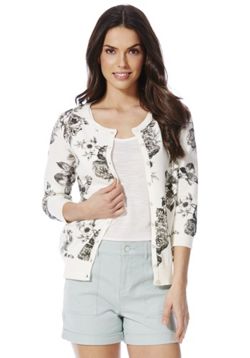 A cardigan is always handy and you wear it buttoned up, partially open, fully open or even draped over your shoulders for a preppy look. This three-quarter length sleeved cardigan from popular supermarket brand F&F is ideal for covering up. The black and white colours mean that this cardigan will go with whatever you have in your wardrobe, and the lovely monochrome floral print is really on trend. In addition to this, this cardigan is in a smart-casual style meaning that you throw it on with smart ensembles or with jeans and a top and it still look great. And the best of all – it's the price of course! This lovely piece costs just £14 and is available in UK sizes 6 to 22.
A peachy boat neck sweater with charming button details is just the ticket when it comes to covering up a little this summer and will look equally good with jeans or with a gorgeous flowing floral skirt. We love this glowing peach shade, but there is a great selection of colours to choose from including fuchsia, black, navy, pale blue and emerald green. It comes from chic and upmarket designer Benetton but still features a really affordable price tag of just £29.95. It is 100% cotton so that you can be sure of it keeping you cool and collected during the summertime.
We're finishing up with a piece that is a bit more expensive but which you really have to view as an investment, and that is with a classic Breton sweater in white and navy. And since it is chic French invention, buying from a chic French brand is obviously preferred as this gorgeous one proves from Petit Bateau. Made from thick 100% cotton which is perfect for keeping the chill of stiff sea breezes off, this sweater is finished beautifully with gold buttons and the classic stripes. It is available in sizes XXS to XL and costs £82.